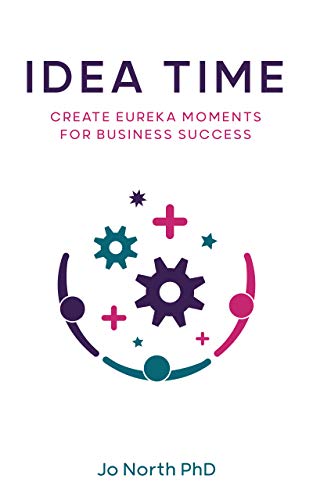 Idea Time book by Dr. Jo North
Create Eureka moments for business success
Boost your business brainpower, develop your decision-making and tap into the creative potential of your network.
Activate your business brain to achieve 'whole brain thinking'.
Increase the number and quality of your business ideas.
Improve the creativity and innovation output of your meetings.
Develop an innovation culture within your team or workplace.
In this fascinating and inspirational new book, Jo North, PhD offers an insightful, pragmatic and time-efficient roadmap to success, taking the reader through a thought-provoking, creative thinking process to achieve an actionable plan for accelerated and sustainable results.

Dr. Jo North's Idea Time book draws upon cutting-edge research in entrepreneurship, business creativity and innovation, productivity, human performance and success, and takes lessons from relatable business innovation case studies.

Idea Time is a book that will help you to find a clear path to achieving your big, ambitious goals. It also offers dozens of personal 'lightbulb' moments and insights, into yourself and the people you work with. The book is packed with practical tools, techniques and strategies that you will use well into the future.