Posted in Blog, Design Thinking, Facilitation, Innovation, Innovation, Virtual Facilitation by Jo North
How do you design a virtual innovation sprint? is one of my most frequently asked questions, so I thought I'd share my process with you as I prepare for a specific event that I have coming up soon.
The virtual innovation sprint that I'll be covering in this article is a super-short one. I appreciate that a lot of the materials for an innovation sprint, also called a design sprint, are for events that are 3-5 days long, and are about creating a product or service prototype. However, many of the events that I run are much shorter. They cover a broader range of innovation sprint challenges.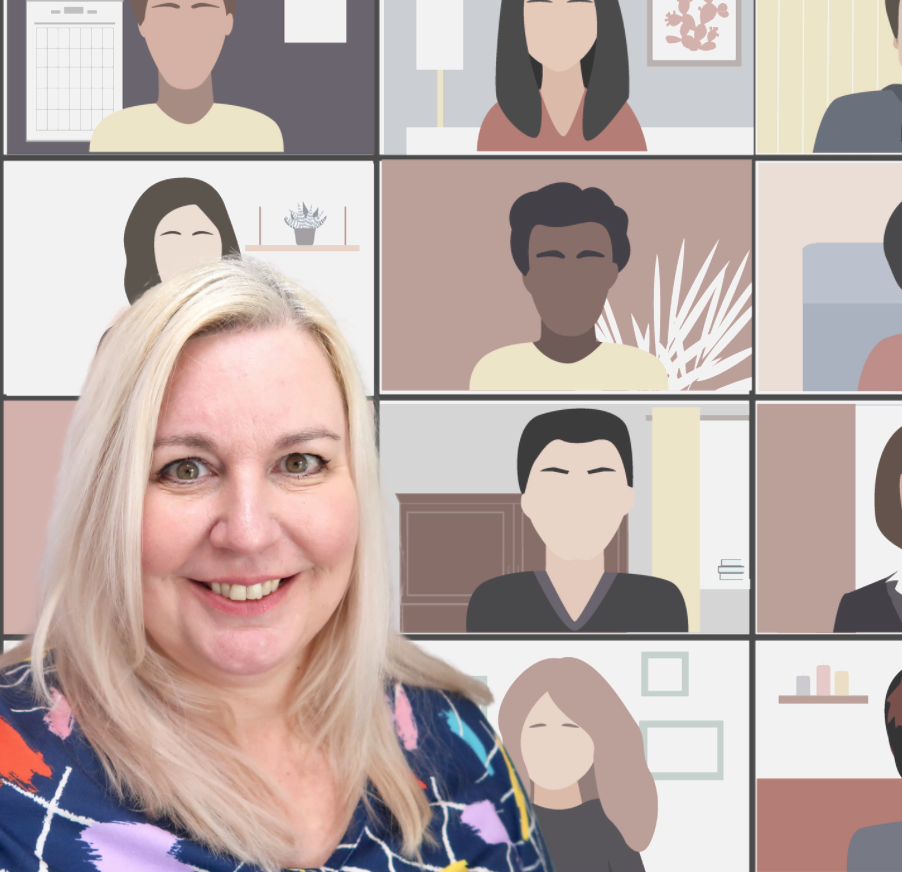 For example, just in the last few months I have designed and facilitated virtual innovation sprints to develop solutions for:
Strategy and business planning
Branding and marketing campaigns
Winning bids and tenders
Transformational change in organisations
Internal communications and employee engagement strategy
You can find out more about the virtual innovation sprints we facilitate here.
How to design this particular virtual innovation sprint!
Every virtual innovation sprint is different and special. I don't use off-the-shelf approaches. I've outgrown them and bring something original as well as positively impactful every time to my clients.
The specific event that I am designing and that is the subject of this article is a 3 hour Zoom session for 39 people from different businesses in the utilities sector.
Although I'm running it in Zoom, you could do it just as well in Microsoft Teams using the breakout rooms feature there.
The theme of the innovation sprint is to agree on the plan for a national, sustainability-focused marketing campaign. All the businesses present will ultimately get behind and actively promote this national campaign, adding their own local branding to it. It's therefore really important that the participants are engaged and bought into the process.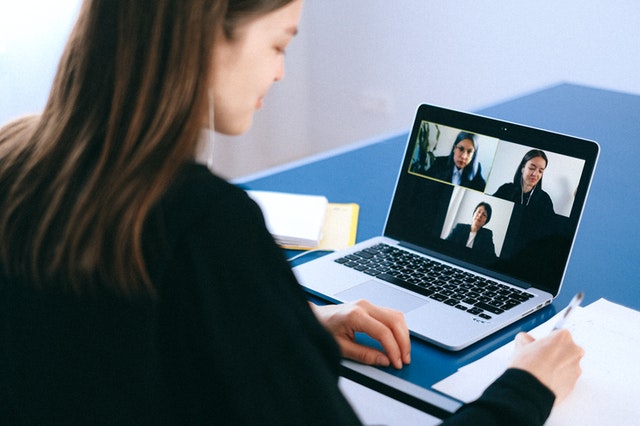 The intention of the session is not to create a full and cohesive marketing brief or campaign outline. Rather it is to harvest the collective wisdom for everyone present on the key features and components that will be important.
The creative agency, who will also be participating, will then take the outputs from the innovation sprint and turn them into a cohesive campaign brief which they will share with the group before starting work.
A few words about this article…
I am writing this article as I am designing the event in real time, so that you get a true step-by-step insight into my thought processes and key steps. I'm literally doing a step and then writing up what I have just done for you, making my thinking explicit throughout.
I also come back AFTER the event in the final paragraphs to let you know how it went in practice, what, if anything, I changed and what I might do differently with hindsight. I've given an honest view of how this virtual innovation sprint worked in practice.
I really hope you enjoy this process and find it helpful. If you have any comments or questions, I'd love to hear from you! Do get in touch using the contact us form at the bottom of the page.
Step 1: Be very clear about the purpose of the innovation sprint and create a sprint mission
My very first step is to make sure that I am super clear about the purpose of the innovation sprint.
I have had a few conversations with my commissioning client, the industry body. I have also gained feedback from everyone who will be participating in the event via a short Survey Monkey questionnaire. I did this to understand participants' priorities and early ideas, so that these can be factored into the agenda.
From the briefing and Survey Monkey feedback, my first step is to create a mission statement for the event, which I phrase as a question.
Having a clear, single mission statement gives everyone clarity and focus for the innovation sprint.
Phrasing the mission statement as a question opens people's minds up to solution-finding, idea generation and possibility from the very outset.
I've adapted the mission statement slightly to maintain confidentiality, but here it is:
Sprint mission: How might we learn from and build on our 2020 campaign to achieve even greater success together in 2021?
Step 2: Populate the agenda with the 'must have', known sprint activities
The next step is to begin to design the virtual innovation sprint. I populate the agenda with the activities that I know will definitely need to take place, for example:
Introduction and welcome
Known speaker or guest spotlight sessions
Breaks
Review, next steps and thanks at the end
I set up my agenda outline in a wonderful online tool called Sessionlab. Sessionlab allows me to move blocks of time around, colour code different activities, attach key resources and use items from other agendas I have in the app if I want to. Sessionlab also calculates timings for me as I shape the agenda, which is a great feature.
Because I only have 3 hours in total for the entire innovation sprint, I will keep the introduction and welcome pretty tight and short. As there will be 39 participants, I've decided that I will ask everyone to introduce themselves in the chat, and say where they are from and so on.
I will kick off with the sprint mission and give an overview of the agenda for the session.
In this session, I know that I will have three short spotlight speaker sessions to build in, right at the beginning. These spotlight speakers are key sponsors or stakeholders who will be helping to set the scene, objectives and context for the sprint mission.
My client has requested that the session also includes these elements:
A retrospective on lessons learned from last year's campaign, without taking up too much time, as we received quite a bit of feedback from this from the pre-event Survey Monkey questionnaire.
Priority themes for 2021, including a discussion in how best to launch this year's activities. This will be the most substantial sprint session.
Some agreement on evaluation and success measures for this year's campaign.
So I add these into the Sessionlab agenda with a rough estimate of how long I will need to spend on each item.
Here's what the agenda looks like at this stage.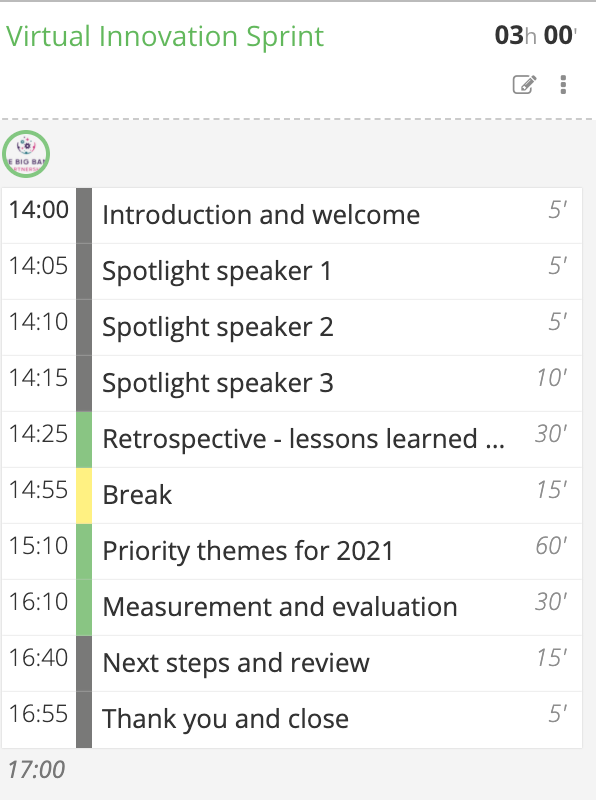 Step 3: Design the specific innovation sprint activities
How I design the retrospective session for the innovation sprint
I start with the retrospective. I decide that it will be helpful to share a summary of the Survey Monkey feedback relating to last year's campaign and note that in the Sessionlab agenda.
I then need to get everyone into action. I consider the Starfish and "Puzzles, Risks, Appreciation, Wishes" activities.
The Starfish activity
The Starfish activity involves delegates considering these questions, arranged in a visual that looks like a starfish shape, per the image below.
Keep Doing – What are all the good things that worked well in the last campaign that we need to keep in 2021?
Less Of – Based on last year, what elements need a bit more refining or were not helpful?
More Of – What had great potential last year that we need to take more advantage of in 2021?
Stop Doing – What definitely needs to stop in 2021?
Start Doing – What new things do we want to try in 2021?
The Puzzles, Risks, Appreciations, Wishes activity
The questions I'd ask participants to consider for "Puzzles, Risks, Appreciations, Wishes" are:
Puzzles: Which elements are problematic and need more thought?
Risks: What do we need to improve in the 2021 campaign?
Appreciations: What worked really well in the last campaign?
Wishes: What ideas and priorities do we need to consider for 2021?
Breakout rooms or online polling?
I decide that I like the clarity of "Puzzles, Risks, Appreciations, Wishes", and the clear distinction between what each question is seeking to achieve.
I consider the option of using 4 breakout rooms, each breakout room working on one element each, i.e. so one group focuses on puzzles, another on risks, another on appreciations, another on wishes. This sounds good, but I will need to allow time for each group to feedback. The approach is also a great conversation-starter as everyone in the virtual innovation sprint has the shared experience of last year's campaign to talk about.
As time is limited, I also consider using my favourite online polling and quiz tool, Mentimeter to ask everyone to answer all four Puzzles, Risks, Appreciations, Wishes questions above. This would have the advantage of being relatively quick and canvassing everyone's views in one go. The potential downsides are that it's less engaging, perhaps, and may simply duplicate rather than build on the Survey Monkey pre-event survey results. 39 people participating in 4 question polls will also generate a lot of data that I may not be able to sort through in the time constraints of the session.
Decisions, decisions…
To help make my decision, I go back to the Survey Monkey pre-work results and resolve to go down the breakout room route, making sure (as always!) that I provide a clear brief, with instructions and resources prepped for each group to use for their question from the Survey Monkey results. I update my agenda with my latest thinking before I forget, and add in an extra 10 minutes for the activity, having calculated timings more precisely.
I make a note to do a quick demo on how to use a Miro board, too as I decide that a virtual whiteboard will be a great way of getting groups to collaborate and of capturing outputs. I've used Miro with this group before and they did a great job, so this will just be a refresher as it was a couple of months ago.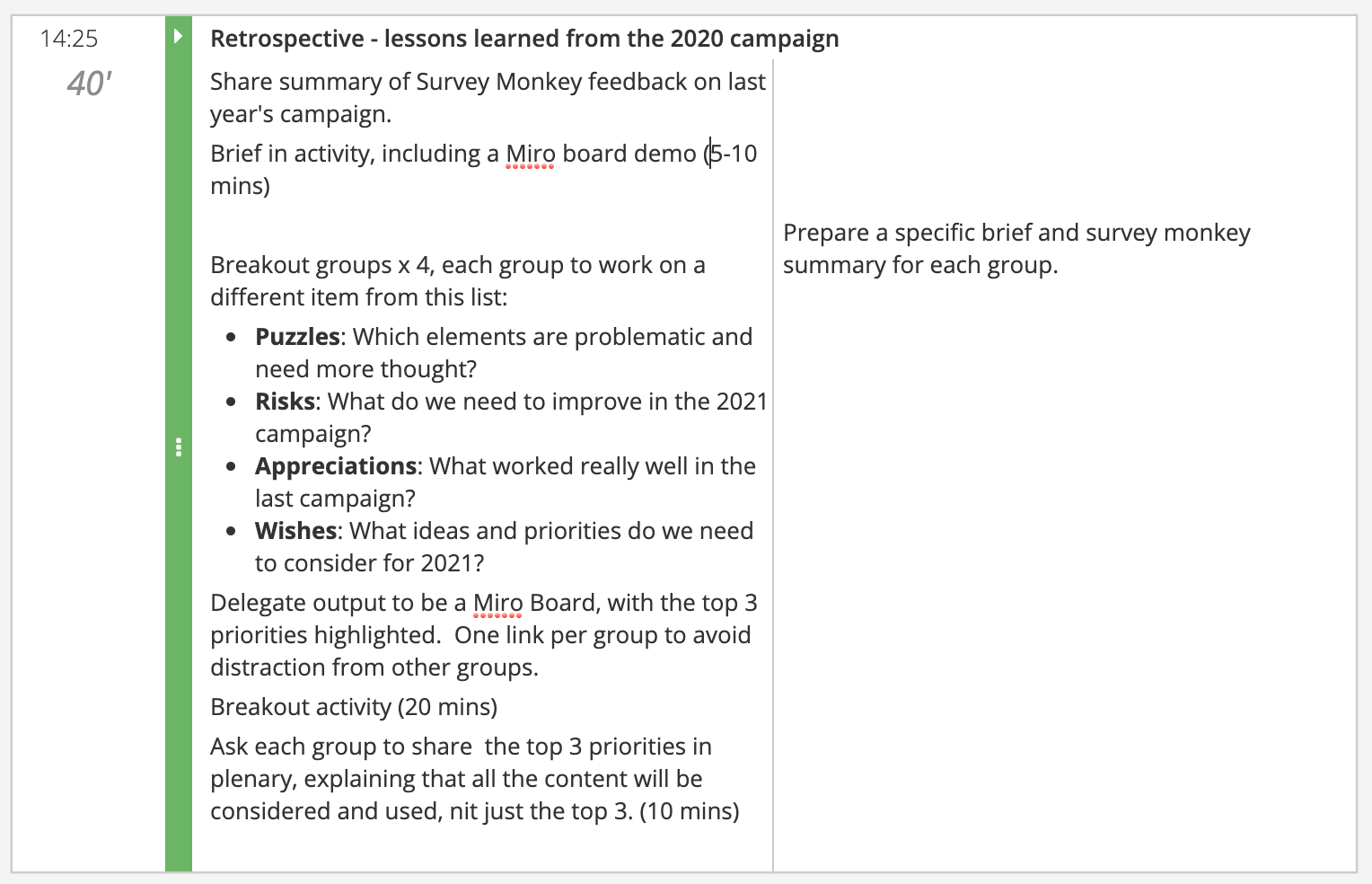 How I design the priority themes for 2021 session for the innovation sprint
I will need to be agile in this session once the sprint is live, because the outputs from the previous retrospective activity will inform what I end up doing here. The best virtual innovation sprints are organic, so I will prep as best I can, but be ready to adapt my plans on the day.
My client would like to have breakout groups for this section, each group working on a different theme if possible.
I have another look at the Survey Monkey prework. Some of the key themes raised in there for the overall sustainability theme are:
Campaign launch
Outdoors, including weather-related
Customer segments
Environment, including energy usage
Stakeholder engagement & collaboration
I decide that I will base my design on these themes, and be ready to change as necessary.
The Lotus Blossom technique
I consider asking each breakout group to use the Lotus Blossom idea generation technique for their theme. You can read about the Lotus Blossom technique and how to facilitate it in my article and video here.
On reflection I decide that this may be too structured. So I put down my laptop and have a think for a while…
Storyboarding
I go through my creative technique library that I share with my virtual facilitation coaching clients and decide it would be productive and fun to combine storyboarding with the Hero's Journey (the Hero's Journey is based on the work of Joseph Campbell).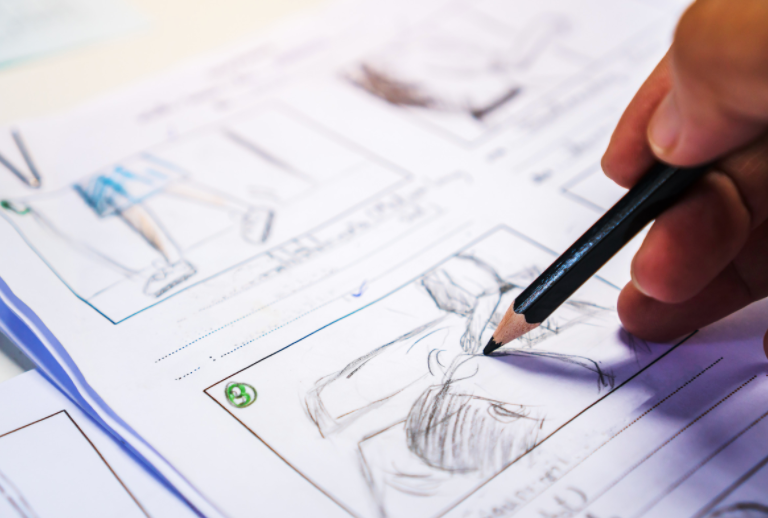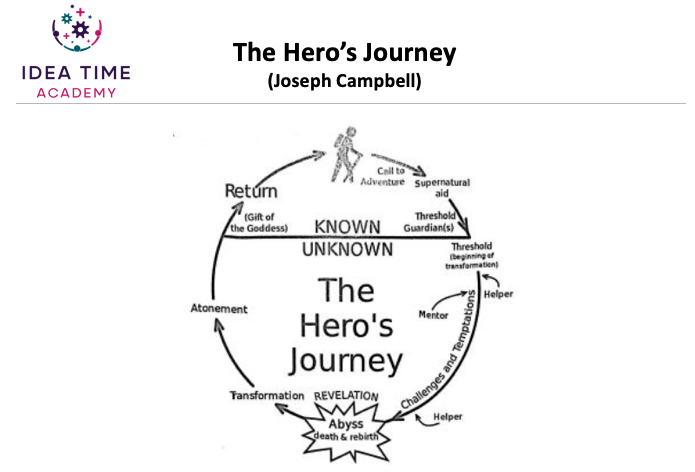 I'll ask delegates to first use sticky notes on a Miro virtual whiteboard to capture all their first ideas. The next step will be to shape a number of storyboards, based on the Hero's Journey, that bring those ideas to life.
Each breakout group will then select their most promising storyboard(s) to share in plenary.
I update the Sessionlab agenda with my ideas. Here's what the agenda now looks like for the break and the priority themes session.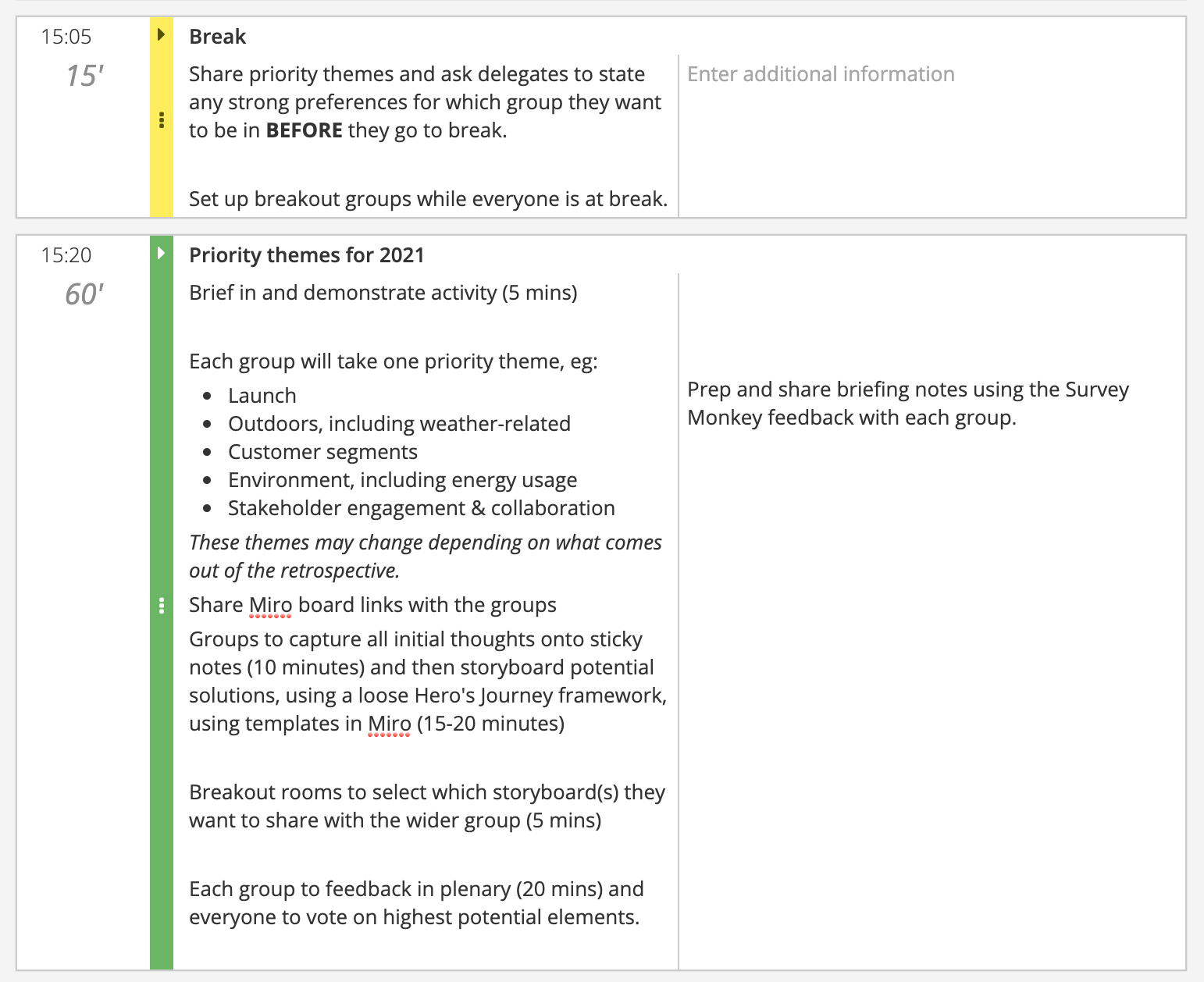 How I design the measurement and evaluation session for the innovation sprint
It's important I think that we start off by agreeing what measurements are the most useful for the campaign and why. Once we have done that, we can then move on to work out how we will get those measurements.
I decide to set up a Mentimeter poll featuring all the key ways of measuring marketing campaigns and ask the participants to rank each measure in real time online.
To make sure I don't miss anything, I also think about asking a catch all question to check if there's anything else that delegates want to add.
Next, I'll continue to use Mentimeter to ask for ideas on how we might action the preferred measurement and evaluation routes, including asking for volunteers to be 'case studies' for measurement in their businesses.
I'll facilitate discussion in plenary as required. From experience I know that these participants are happy to speak up and be constructively vocal.
Here's the agenda segment for the measurement and evaluation session.

Step 4: Make final overall tweaks to my virtual innovation sprint agenda
I tweak some timings and then finalise the outline. You can see the final outline agenda here.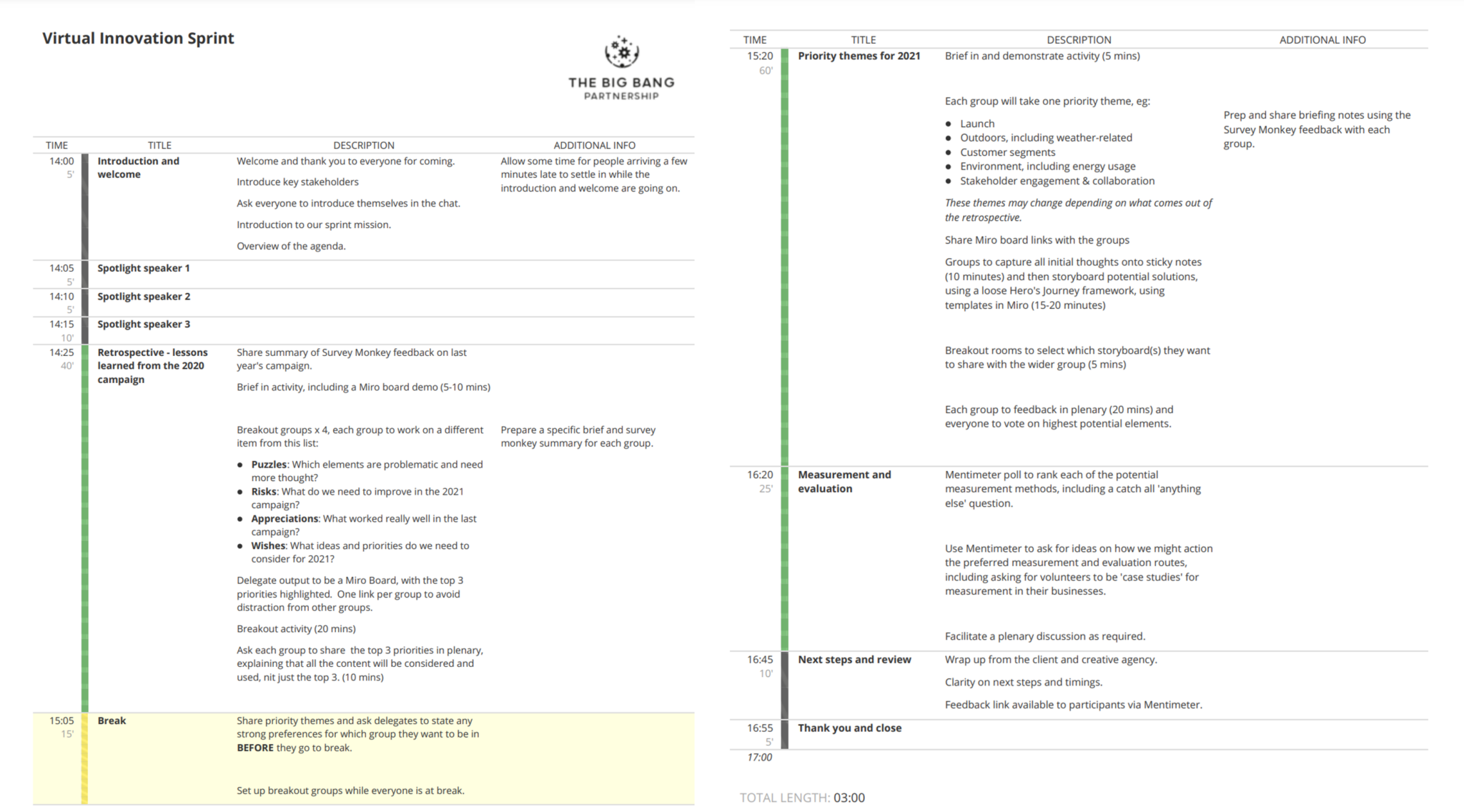 Step 5: Prepare the slides, virtual whiteboard templates and online polls for the virtual innovation sprint
It's only at this stage, once I have prepared my outline agenda, that I begin to prepare the materials.
Once I have decided the flow and details of each specific activity, it doesn't take long to set up the Miro boards and Mentimeter polls. If you'd like to learn more about how to do those, here are two great videos to help you.
Step 6: Review – how did the Virtual Innovation Sprint work in practice?
Everybody attended on the day, so there was a full house of participants. We got off to a great start, and the group was happy to see each other and to build on the virtual innovation sprint outputs from last year and into 2021.
All went to plan until after the first activity, where a couple of members of the group who were newer to the process brought some robust challenge to the thinking. If you've read my other work or attended my events, you'll know that I believe in positive disruption, executed professionally and respectfully, is healthy and we should support it rather than close it down.
The debate opened up, although at what I considered to be the appropriate point I did move it on so that others in the room had space to speak, and so that we could progress the event.
As a result of the constructive challenge I added in some additional Mentimeter polls on the fly.
We also didn't complete the storyboards in the way that I had planned, due to time, but we did get the activity done through sticky notes on the whiteboard.
The overall objectives of the sprint were achieved, delegates had the opportunity to speak out and participate fully and my client was very happy with how much we had done and created in such a short space of time.
As always, when we are facilitating an innovation sprint we need to be agile and think on our feet.
It's no good sticking rigidly and protectively to our design.
We MUST be prepared to go with the flow whilst at the same time being mindful of our overall roadmap and achieving the mission of the event.
Next steps
Join my free Idea Time for Workshop Facilitators private Facebook Group
If you're interested in facilitation and developing your professional practice as a facilitator, I'd love you to come and join me in my free, private Facebook Group, Idea Time for Workshop Facilitators.
As well as a fantastic community of likeminded people, you will get access to free facilitation trainings, tools, techniques and time savers.
Get my free Supercharge Your Virtual Engagement on Zoom Video Course for Online Meetings
If you're a Zoom workshop facilitator, click here to get my free Supercharge Your Virtual Engagement on Zoom Video Course.
If you'd like to book us to deliver some professional virtual facilitation for you and your team, or would like a one-to-one virtual facilitation training and coaching session, you can find out more about what we do here, or contact me direct using the form below and I'll get straight back to you.
Hope to hear from you in so that we can chat about all things innovation sprints, design thinking, online meetings and virtual facilitation! x