Posted in Uncategorized by Jo North
The importance of strategic planning
Your financial strategy really is the nuts and bolts of your business. Money is the language of business, and the enabler that gives us the opportunity to achieve our goals, whatever our aspirations might be. Even non-financial goals often need financial support to help them happen, and to sustain them.
Here is a strategic planning process that I use from time-to-time, in collaboration with my accountant, to give me a healthy professional perspective and some specialist advice.
Step 1 – Look back
It's important to take the time to look at where you have come from, to learn how you have evolved and made it to where you are today. It will be insightful and help you to plan your goals and future actions. Think about:
Where you were
Where you are now
Where you want to be
I recently took time to review how my business has performed over the last 4 years. I also looked at the present to see where I am now, what strengths and opportunities I currently have. Then I considered what I need to put in place to get me from where I am now, to where I want to be.
Looking at it from this perspective has been really motivational. Sometimes we really do forget how far we have come, so give yourself a big pat on the back and then look forward to achieve those big, hairy, audacious goals.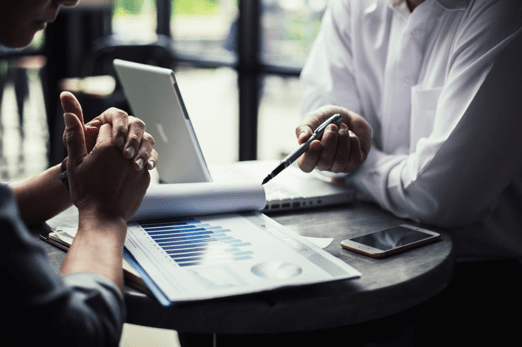 Step 2 – Set targets
To get from where we are now to where we want to be, we need to set targets. Targets help me because I can look at the outcomes I want from both a lifestyle point of view and a business point of view. I can then challenge myself on my targets and ask myself – are these targets significant milestones to achieve the outcomes that I want?
Ask yourself:
What targets do I have?
Is everything in place that I need?
What else do I need to do in order to achieve the outcomes I am looking for?
How do you feel about setting yourself targets?
If don't like setting targets (especially financial ones), I really encourage you to think again and ask yourself why you don't like setting targets.
Some people don't like setting targets because they think they're a waste of time. They think that the world is going to change, so why set a target in an uncertain world because they are only going to have to change that target anyway. But in reality, targets do not have to be fixed. They can and most often should be flexible and designed to help you map out where you want to be. Businesses need to be dynamic and resilient in an ever-changing world, and as things around us change, so should our targets.
Types of target
I always set three levels of targets for my business at the same time. These are:
Realistic targets. These are what I think I will comfortably achieve based on previous performance.
Stretch targets. These are best-case, realistically optimistic targets. They include the positive impact of trying new things, innovations and business development activities. They represent what l hope to achieve if all goes very well indeed.
Worst case targets. If things don't go in the direction I expect them to, then I have a lower end target.
Instead of setting a target that is a single number, having these three types of target gives me a bandwidth to work within and a range, or parameters, to aim for. They help me to be more responsive so that I dial activity up or down, depending on how well a project or initiative is performing.
Working with different potential outcomes like this is also called sensitivity analysis.
I really recommend that you have a go at setting three separate targets based on these types yourself. If you'd like to talk through how to do this for your business, contact me at jo@ideatime.co.uk and I will be happy to help.
Step 3 – Financial planning
Once you have your targets, you can then adjust how much you are going to invest to achieve your target outcome. You can assess your planned expenditure against the return you are expecting to generate. In the future, you can then measure the return on investment against these targets.
We can all aim for really big, hairy audacious goals (BHAGs). As you know, BHAGs are what I am all about, and what I am here to help you strive towards. It's important to understand that setting the targets to get there is an essential element of your success strategy. Informed by the goal and targets you want to achieve, you can then work back and ask yourself:
How much it is going to cost?
Is the cost a realistic amount based on the return you think you are going to generate?
If it is a larger cost than you would like, then how can you prioritise that?
What can you change to bring the cost down?
Find out more about improving efficiency, productivity and keeping costs down here. You can also learn more about how to make better financial decisions for your business here.
Step 4 – Keep a positive mindset
You could see finance planning as dry or scary, or you could look at it as how I do – motivational! A positive mindset is essential for business! We are all here to build a business that enables us to do something that we absolutely love doing and to build a life, business and lifestyle that we want.
It could be that you're spending more than you are bringing in right now, and may have some difficult decisions to make, but remember that investment into the business will bring rewards in return and take you to where you want to be. If cashflow is a challenge, do reach out and ask a trusted, trained colleague or professional advisor to help you. Remember, if that's the case, you're definitely not alone and there's no need for you to keep it quiet or to struggle through unaided! Research by Intuit Quickbooks shows that around 57% of small business owners have experienced problems with their cashflow.
It doesn't matter what the size of our business is, whether it is a side hustle or a muti-million pound turnover business, most of us create our businesses because we want to create something special, something that we really enjoy doing. We need to be positive and comfortable when talking about finance and facing up to those difficult conversations that sometimes need to happen. Doing this whilst looking at where you are now and where you want to be is truly fundamental, and will push you forward to succeed and grow.
Step 5 – Work with the best people
I also recommend that you work with a talented, approachable, understanding, customer service focussed, financial expert as well. Finding someone who can really help you with things like taxation and specialist financial reporting is essential. Good financial support and someone you can talk to is literally worth its weight in gold.
If you have employees, my article on how to achieve your business plan through performance appraisals will give you some extra tips for target setting with your team.
Enjoy the process and remember, use those targets! It is part of being a smart, intelligent, successful entrepreneur.
What next?
Targets help you and are motivational if they are used in the right way. They can guide you in times of change and can help challenge the plans you have in place so that you are more likely to achieve the outcomes that you are looking for. Targets can also be used to create and plan your budget and expenditure.
I would absolutely love to hear about what your goals are for the rest of this year and how you are getting on with them! Feel free to get in touch by email at: jo@ideatime.co.uk – I promise I answer all genuine emails I receive.
And if you'd like to learn more about my membership, you can check it out here at www.ideatime.co.uk/membership. You can also read one of my latest articles which explains why I created Idea Time membership and just a few of the things you can find inside.