Posted in Uncategorized by Jo North
Why it's important to love your business
I've done a lot of business networking in the last 30 years! As a director of three large transport businesses, representing the company externally was an important and significant part of the job. And for the past 8 years as MD of the consultancy company I founded networking has been a key success factor that has helped me to grow my business.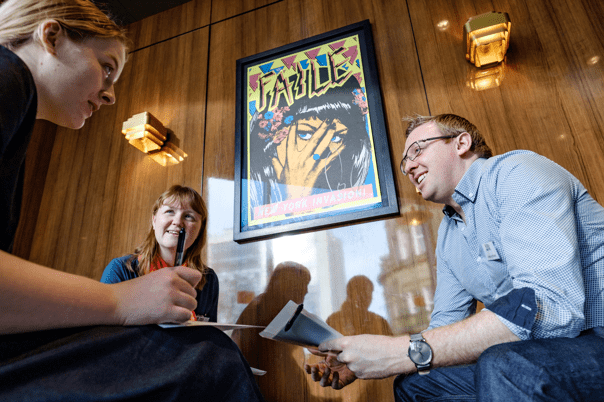 I now love networking, but I know that for many people, including lots of small business owners, it's definitely an acquired taste. That's a pity because by making the effort to go and participate at events, and learn more about how to do it well, my time and financial investments in networking have definitely paid off.
I recorded a short vlog for you here to share how and why networking helps with business growth, especially for small business, and give my thoughts on why some people resist the whole idea of it. In this blog there are some more insights, tips and techniques that I hope will help you if you're networking already, and maybe even inspire you to give it another try if you think that business networking isn't for you.
How to Improve Your Networking Skills
Networking tip number 1 – Do your homework
Make sure you find out as much as possible about the event and who's attending before you sign up to be sure that it's right for you. Assuming that the event is a good one for you, do your best to get a list of participants of you can so that you can do some research before you go. Identify who you'd like to speak to and the sorts of things you'd like to ask them about.
An important part of doing your homework is also preparing a concise, interesting and personable way of introducing yourself and your business.
If you're not completely confident about networking quite yet, doing good prep is absolutely essential because it gives you a solid foundation to work from.
Networking tip number 2 – Think relationships not sales
It's not about selling – especially not on the first meeting. Networking is about beginning the process of building trust and connections, and about laying the foundations for future clients, opportunities and supply partner relationships. Expecting to go to a networking event and walk away with sales in your pocket is both unrealistic and inappropriate for most types of business and event.
Networking tip number 3 – Look for collaboration opportunities
Look for collaboration opportunities. I have generated new business over the longer term by meeting fantastic people with complementary skills to my own, and with whom I could go on to collaborate to win bigger contracts together, benefiting both of us, as well as our clients. What I love is that some of these collaborations have evolved into long term friendships beyond the collaborative projects. They've blossomed into an informal, mutual support system where we help each other solve problems, challenge each other and give each other a boost when the going gets tough. Never undervalue the positive power of having great people who you can pick up the phone to at anytime, and know that they will do their best to help you – and vice versa.
Networking tip number 4 – Trust can lead to referrals
If you only focus on selling to the people at the event you will miss out on the opportunity to begin the process of building trust and ultimately receiving referrals. Meeting one great new person at an event can lead to them referring you to several people they know, creating more opportunities for your business. Have in your mind that you're potentially not just opening up one new connection, but also indirectly creating the opportunity to access their wider network too.
Networking tip number 5 – Ask great questions and listen more than you talk
Asking great questions, being genuinely interested in others and giving them a good listening to creates in others the sense that you are brilliant conversation. Most people will reciprocate and ask about you and what you do, and it's important to share that in a way that shows your personality. Just be yourself. Do help the conversation along but listen more than you talk and you will always be learning, as well as being seen to be a fab person to spend some time with at events.
Networking tip number 6 – Follow up
Make sure that you follow up with everyone as soon as possible after the event, not just with people who are sales prospects. A short personal email that refers specifically to something you spoke about and an invitation to connect on Linkedin begin the process of developing the relationship further. Suggesting a meet up for a coffee to continue the conversation with some of the people I've met at events has turned into all sorts of amazing business opportunities for me.
Recommended reading
If you'd like to read some more about networking, here are a few great books that I recommend:
Taking the Work Out of Networking: An Introvert's Guide to Making Connections That Count – 10 Jan 2019 by Karen Wickre (Author)
The Financial Times Guide to Business Networking: How to use the power of online and offline networking for business success (The FT Guides)
The Unnatural Networker: How Anyone Can Succeed At Networking by Charlie Lawson
What next?
I hope these tips help. I'd love to hear about your top tips and also the biggest challenges you face with your own networking. Please leave a comment here with your thoughts, or contact me direct at jo@ideatime.co.uk. I will respond to every comment I receive about this article.
If you've enjoy these tips and found them helpful, and would like more depth, insight, toolkits, masterclasses and one-to-one support and coaching with me, why not check out my Idea Time membership here? It would be great to work with you in there!