Posted in Blog, Facilitation, Lead Your Team, Virtual Facilitation by Jo North
I am often asked how to facilitate a goal setting workshop, so I thought I'd create this article for you. It includes:
What is goal setting?
A proven agenda and toolkit for a goal setting workshop
Some of my favourite activities that you might like to try in your own workshop
The article focuses on facilitating goal setting sessions with teams in businesses and organisations.
Goal setting and strategy
My strategy pyramid, shown in the visual below, shows that goal setting is an important step in turning vision and strategy into action.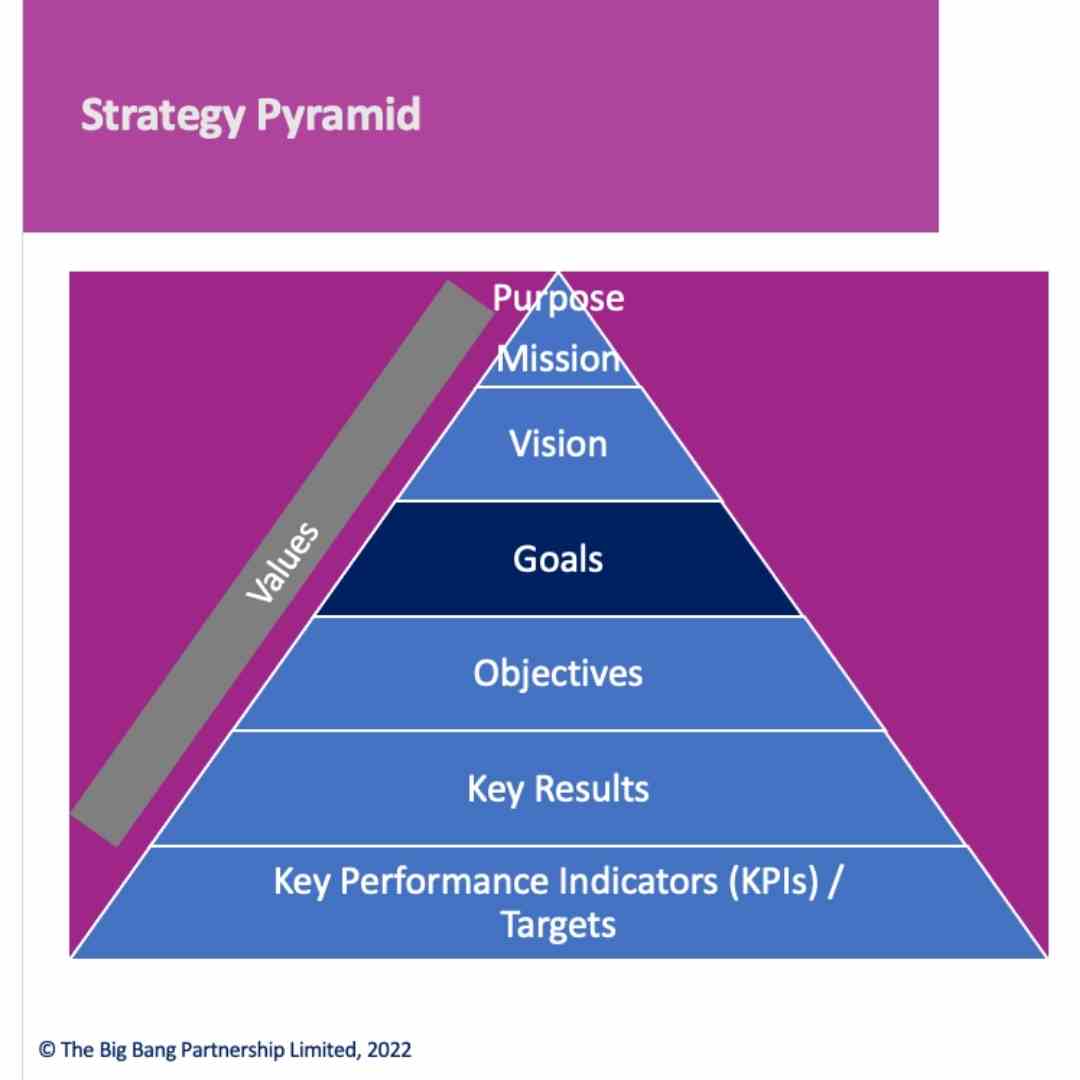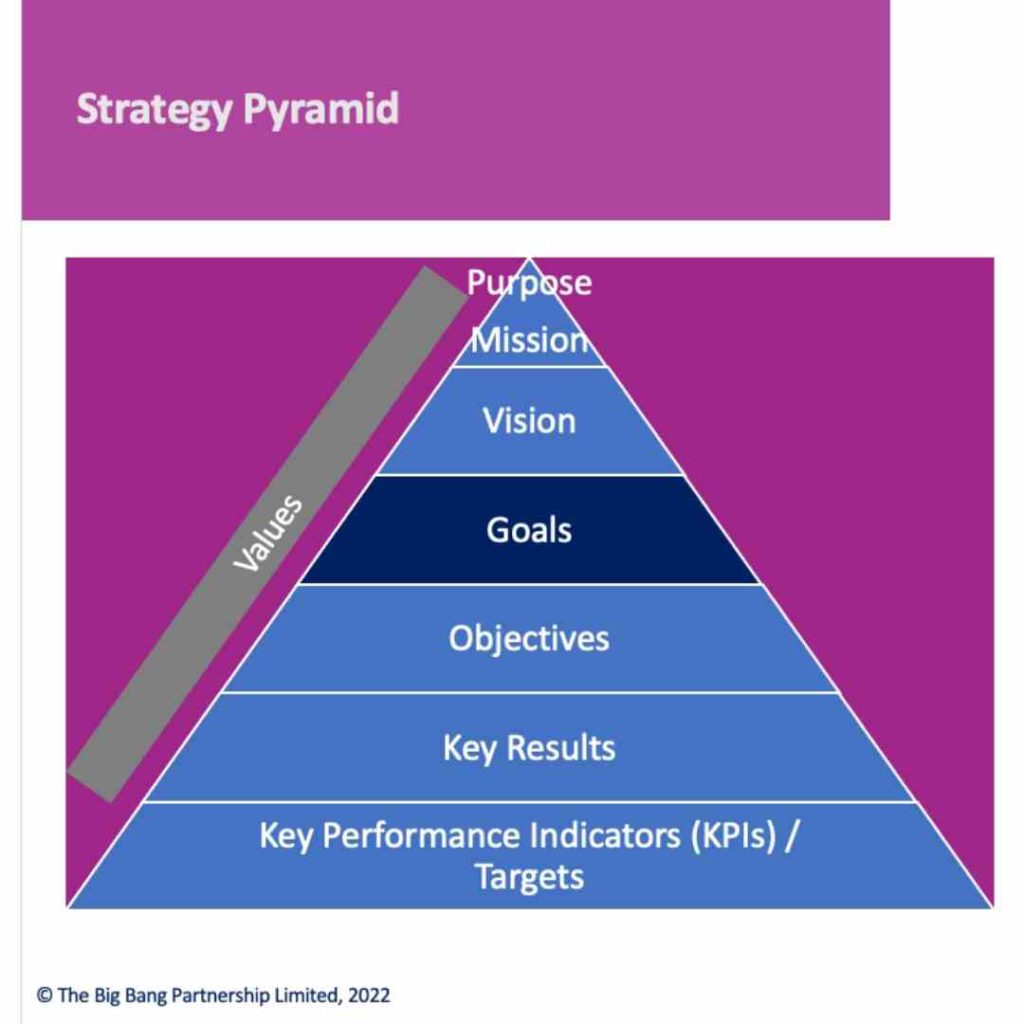 The purpose and mission sit right at the top of the strategy pyramid, the pinnacle of what the organisation or team wants to achieve. Our purpose and mission are the difference that the organisation wants to make in the world, and the positive contribution that it wants to make, with profit and / or impact being a result of making that difference.
Ideally, before you dive straight into goal setting, make sure that the group is clear on their collective purpose and vision.
Values are the principles and the moral compass that the people within the organisation really hold dear in terms of how they treat each other, how they work together and how they work with customers and suppliers. It's the personality of the organisation, but it's also much more than that. It's about the ethics and what is deeply important to people. So, values go all the way through everything that happens in the organisation or that's the ideal.
If you'd like to learn more about purpose, vision, mission and values, you'll find my articles here on how to facilitate a business strategy workshop and how to facilitate a mission, vision and values workshop helpful.
Goals sit beneath purpose and vision on the strategy pyramid. Goals are the items that the team or organisation wants to achieve in order to make the purpose and vision a reality. Goal setting bridges aspiration and action.
Goal setting helps teams to think about what can they shoot for that will make their vision, mission and purpose come to life and become a reality.
Underneath goals in the strategy pyramid are objectives, which are more specific targets. As a non-business example, I have signed up to run the 2022 Great North Run, which is a half marathon in the north east of England. My goal is to complete the Great North Run, hopefully by September 2022. I've previously run the London Marathon, but that was ages ago, so I've lost a lot of fitness and I've got a lot of work to do. But that is a goal of mine for 2022. Underneath that goal are my objectives, which are more specific goals, aimed at helping me achieve my overarching goal of running the half marathon. Some of my objectives are: completing the Great North Run in a certain time; losing a certain amount of weight; exercising 3-4 times a week.
Underneath our goals and objectives, are more specific key results, which are the measurable things. Using the above example, key results that I may set for the Great North Run could be that I want to run at a certain pace, or it could be that I want to have a lower resting heart rate. All these key results are measurable.
Finally, to track progress towards key results, we use key performance indicators which can be on a day to day, weekly, monthly or quarterly level. Our key performance indicators are the things that tell us how well we are on course to meet the goals we have set. So, in the example of the half marathon, a key performance indicator could be how many times I train, my nutrition and how many calories I eat, how much sleep I get, and the time that I run in during the training runs.
Goals are there to operationalize and to make real, the purpose, mission and vision that we have for our businesses. When we're facilitating goal setting sessions with teams, it's helpful to think of it from that perspective.
The importance of goal setting
Kenichi Omi, who is a Japanese organisational theorist, a strategist said:
'Rowing harder doesn't help if the boat is headed in the wrong direction.'
This is why taking some time to think about goals is super important, because we can work really, really hard, but if the hard work is taking us in the wrong direction, then that's not helpful. It can feel like we're making progress, but we do need to make progress on the right things.
Another important thing about goals, which I don't think is said often enough, is that it's not just about what you want to achieve, it's about what you're willing to put in. When we strive for anything and when any team goes after a goal, it means that there are other things that it can't do. Consequently, it means that some things have to be sacrificed to make sure that that goal is achieved.
I've looked back over some of my diaries that I've written and gone back through them a few years later. When I've done this, I've seen that there are some things that I've put in there as a goal, and I've absolutely smashed it. Then there are other things that are appearing year after year after year. Why is that? The reality is, do I want it as much as I think I like the idea of it? It's what is required to achieve that goal that is the barrier. That's the aspect I've not been signed up to. So, when you're working with teams, it's not just about what they want to achieve, but it's about them spending some time getting clarity on the work that needs to go into achieving that goal and what it means saying yes to the goal or what it means saying no to.
To achieve goals, we need a system. There is something called goal competition which means that if teams set too many goals, then each goal competes for time, attention, and energy. Not many of those goals will get achieved particularly well. Therefore, help the team that you are facilitating to focus on setting just a few goals that are meaningful and that will take them forward towards their mission, vision and purpose. 
For more evidence-based tips on intentional goal setting, make sure you also have a read of my article here.
Agenda for a goal setting workshop
Below is an example agenda for facilitating a goal setting workshop.
Goal Setting Workshop Agenda Outline:
Welcome, introduction, scene-setting
Warm up
Activity: Wouldn't it be fantastic if…
Individual, then pair 'interviews'
Activity: Celebrating success – visioning
Small breakout groups, then feedback in plenary
Activity: Prioritizing objectives
Individual thinking, then small group rotation, finally feedback in plenary
Activity: Measures of success
Small group, then voting in plenary
Key actions
Review, next steps, feedback and close
To start with make sure you have considered all the usual facilitation preparation such as an ice-breaker or warm-up, introduction, scene setting and that you've got frequent breaks scheduled.
If you want to read more on how to facilitate, I've got lots of free resources available here or on The Big Bang Partnership YouTube channel.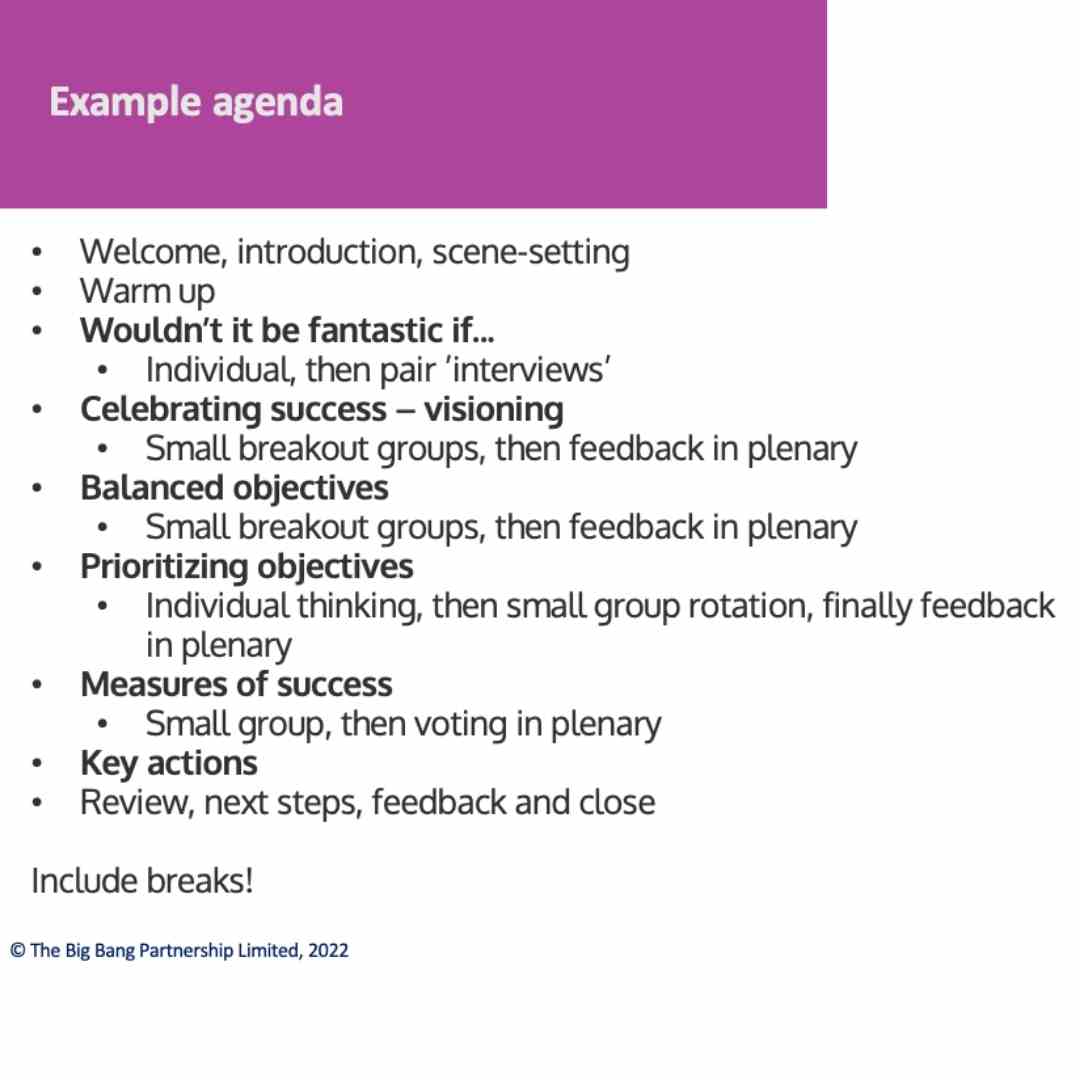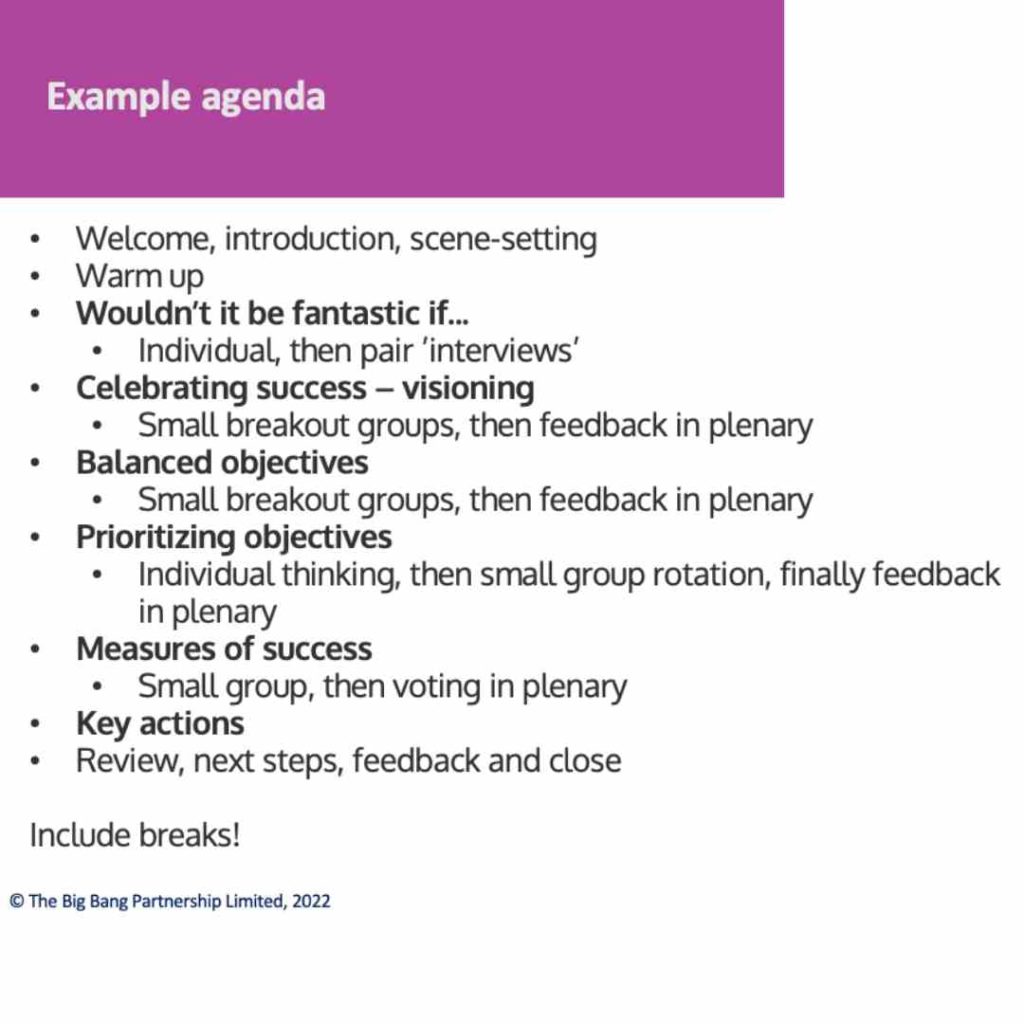 Goal setting workshop activity 1: Wouldn't it be fantastic if…
The first activity I'd start off with is 'Wouldn't it be fantastic if…'.
I often use this activity because it's a great way of getting everyone into exploring aspiration and potential and opening up everyone's thinking.
This activity can be done virtually or in person. Ask your delegates to work individually, maybe with some sticky notes, or a pen and paper to think 'wouldn't it be fantastic if,…', and then complete that sentence as many times as they can, for what they would like the team to achieve. You can specify an end date, by the end of 2025, for example.
It's a surprisingly powerful activity, that gets people thinking individually and doesn't require any additional resources. Ask people to think of 15 to 20 things in a few minutes. Delegates often surprise themselves with what they come up with. The statement phrasing gives people permission to think big and to explore possibilities.
When delegates have had some thinking time alone, get them working in pairs or small groups to talk about the statements they came up with, selecting the most compelling as a group to build forward into the next activity.
Goal setting workshop activity 2: Celebrating Success
The next goal setting workshop activity is Celebrating Success.
Ask your delegates to move forward in time in their imaginations to the end date that they're working to, imagining that they have achieved those 'wouldn't it be fantastic if' statements in goal setting workshop activity 1.
Invite your workshop participants to create a visual canvas that celebrates their success, including:
The specific things they hope to have achieved
The headline, photo and copy of a front-page newspaper of magazine article
The front page of a company newsletter, or content of a company-wide email
Tweets
Awards won
Posts on LinkedIn, Instagram
TV and other media interviews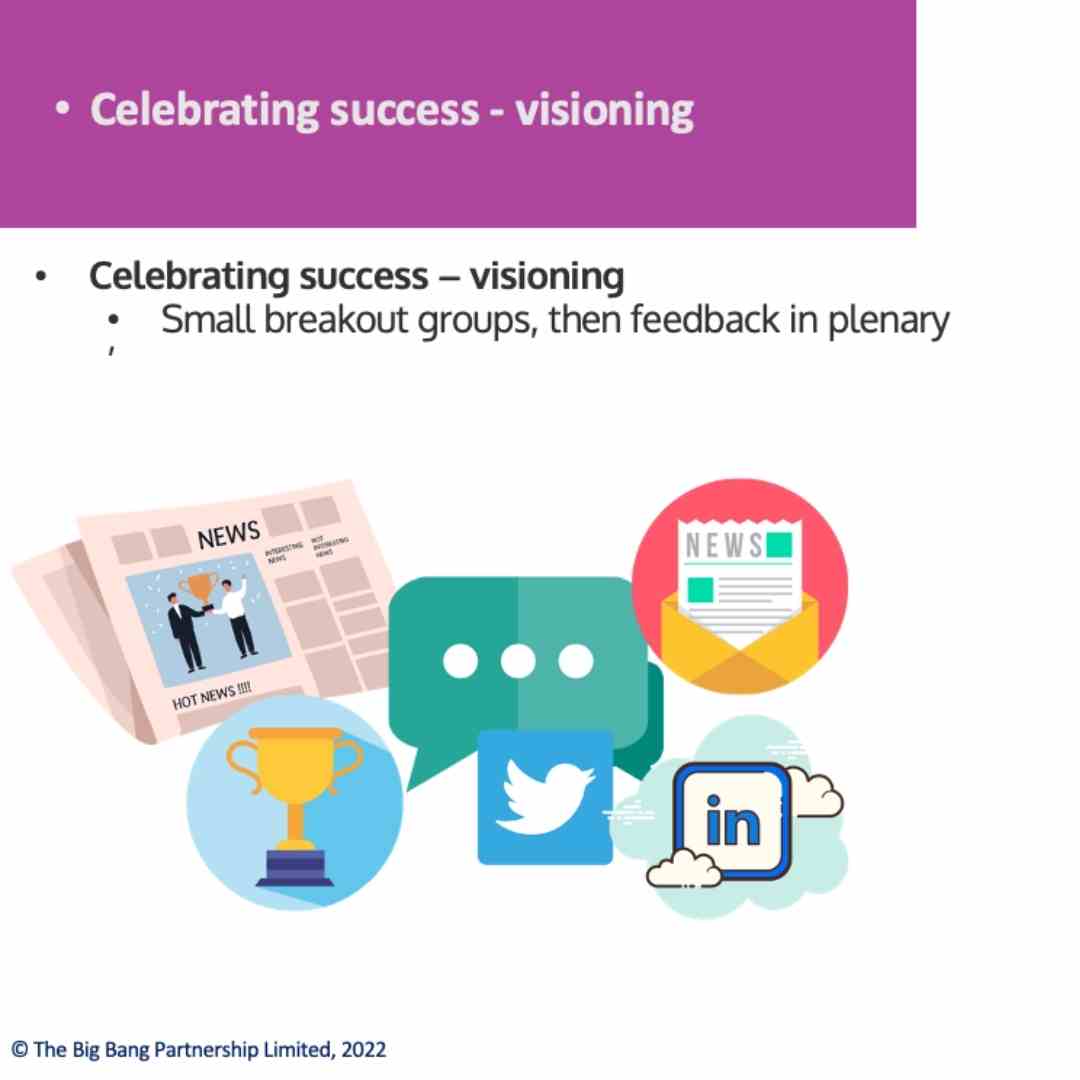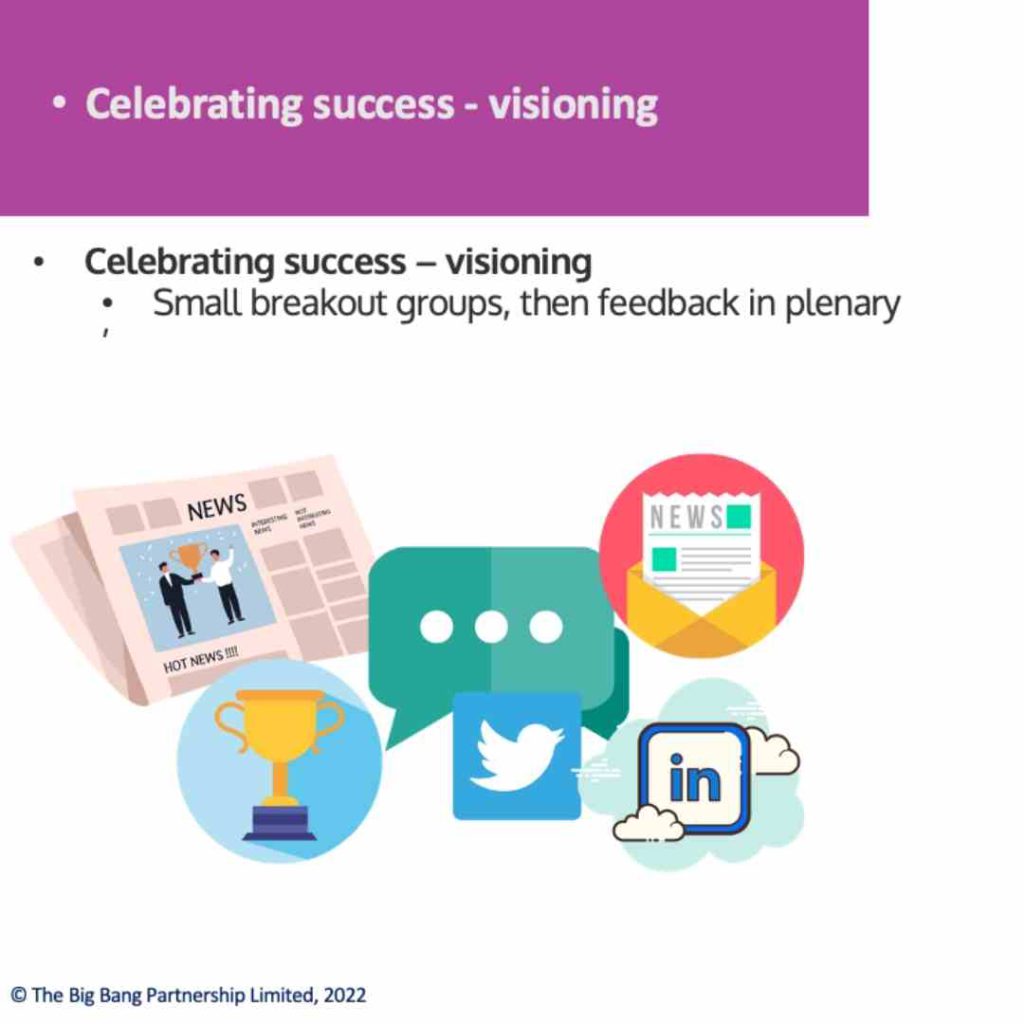 Goal setting workshop activity 3: Prioritizing Objectives
In goal setting activities 1 and 2, your delegates have created a vision and identified their overarching goals for success. Now it's time to facilitate more specific goals, or objectives, that are key steps towards achieving the overall vision.
Make sure that your structure your session to achieve objective setting that moves all aspects of the business or team forward in a sustainable way, using the balanced scorecard approach. This means creating specific customer, cultural, financial, and operational objectives so that there is a more 'balanced' way of assessing progress, across all key aspects.
Again, I create a canvas for people to work on, inviting delegates to identify, without judging or critiquing, as many potential objectives in each of the balanced scorecard areas as they can.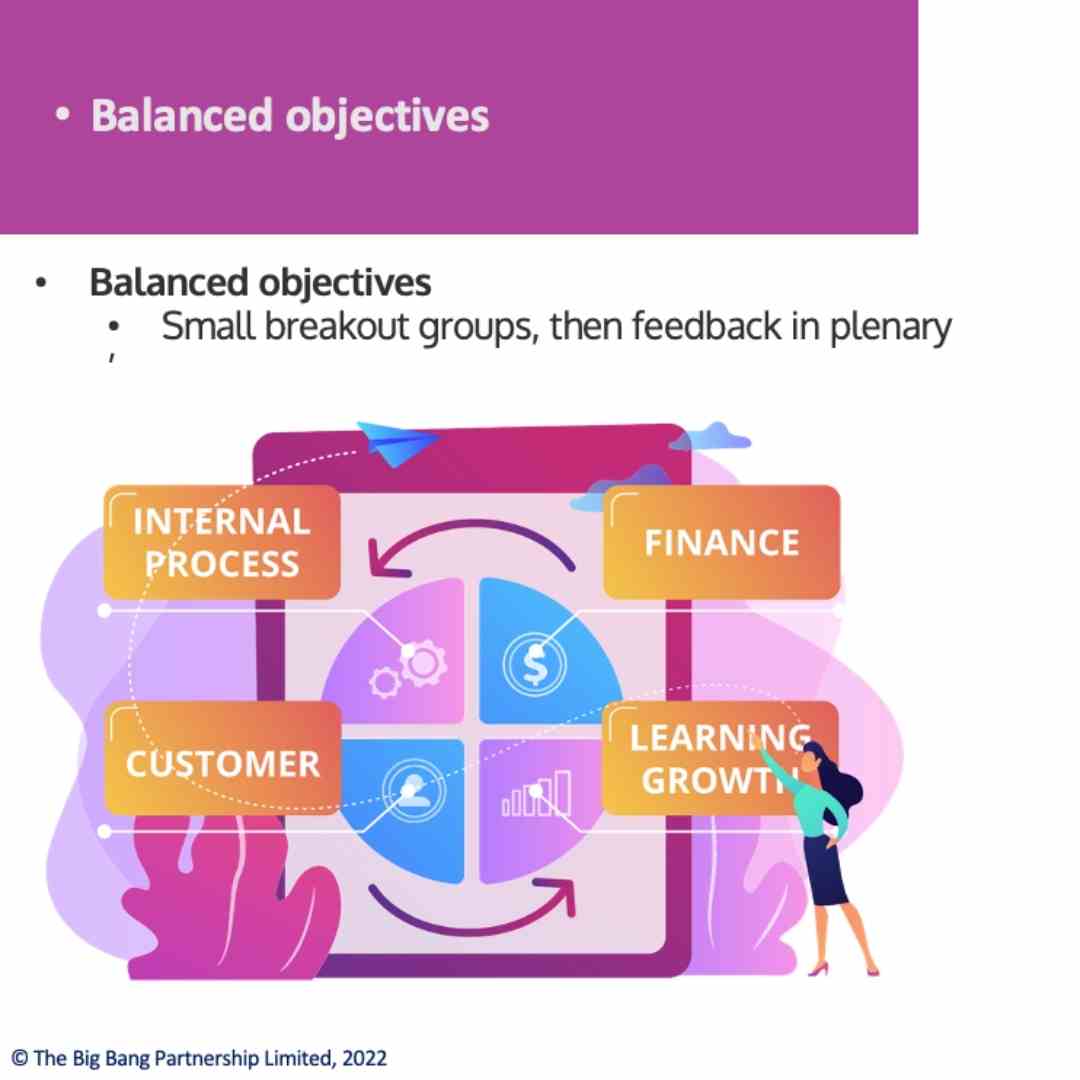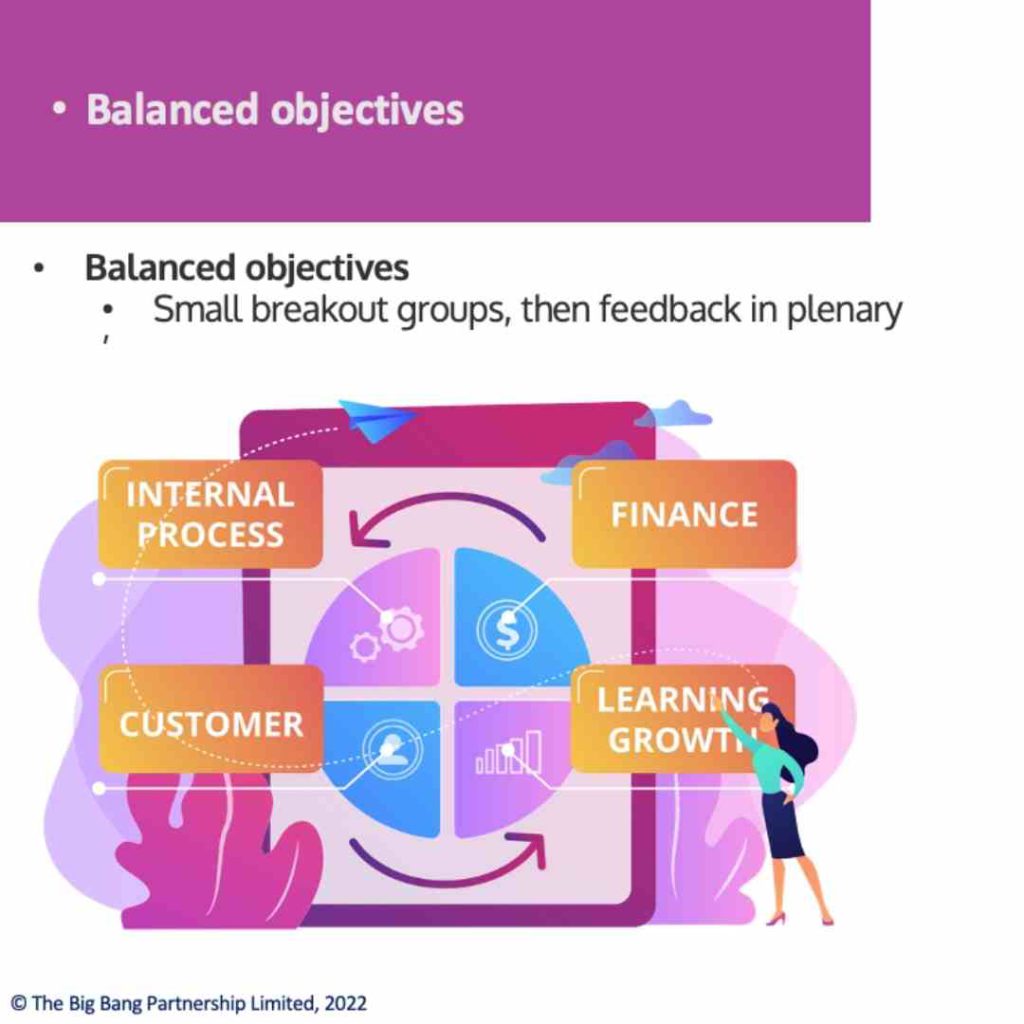 The next step is then for delegates to prioritize the potential objectives, using an activity such as sticky dot voting or via an online voting tool such as Mentimeter, which allows people to vote in real time, online through their phones or other devices to select the most important 3-5 in each balanced scorecard category. It's important to avoid goal competition, created by including too many things, so help your delegates to focus on the ones that are most useful for driving the results they want to achieve.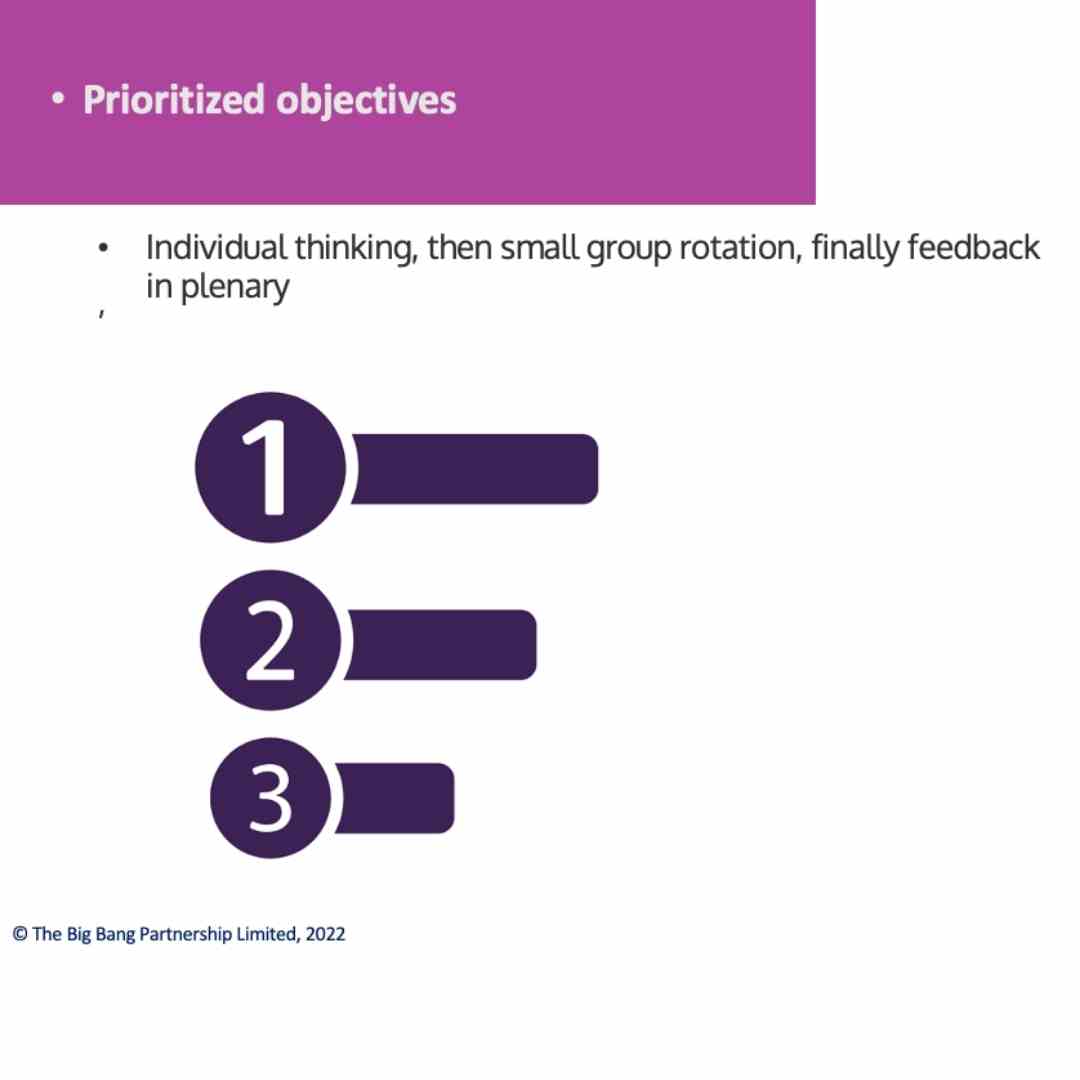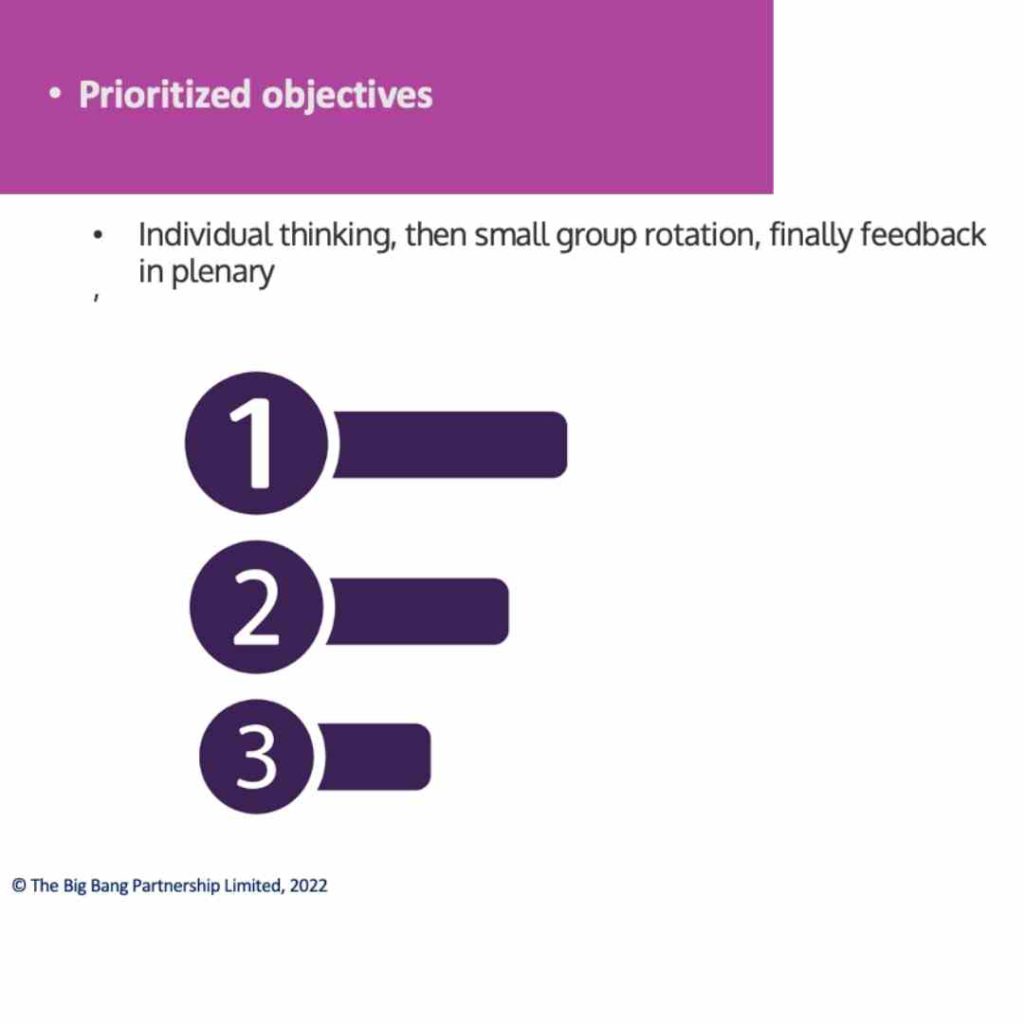 Goal Setting Activity 4: Measures of Success
After prioritising the objectives, delegates now need to think about measures of success for each. Some examples are:
Customer
Number of new customers
Customer retention rate
Customer satisfaction levels
Cultural
Employee engagement scores
Employee retention rate
Operational
Productivity – e.g. downtime, waste, rejects
Number of safety incidents
Financial
Turnover growth
Profit growth
Market share
Brand recognition
Actual cost vs budget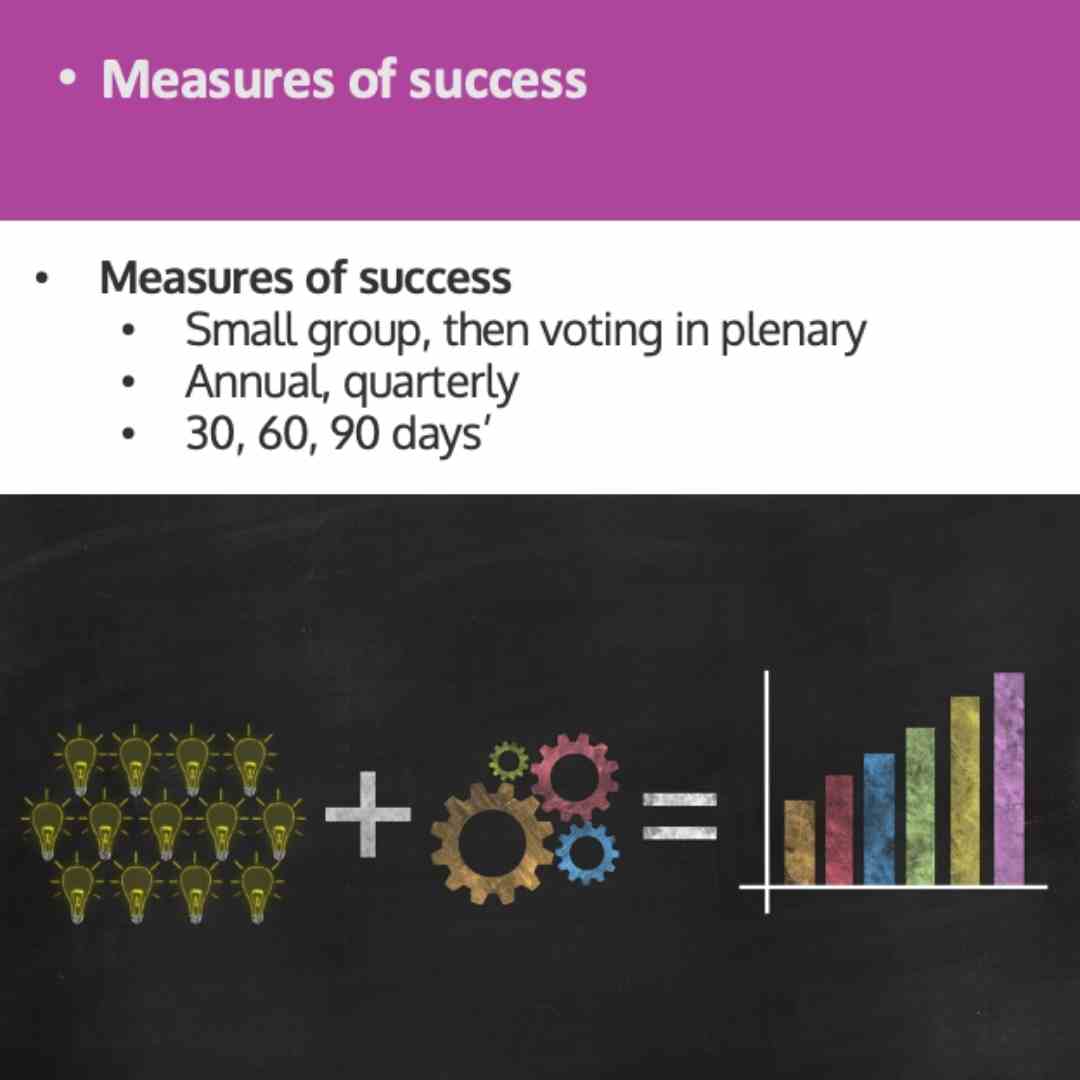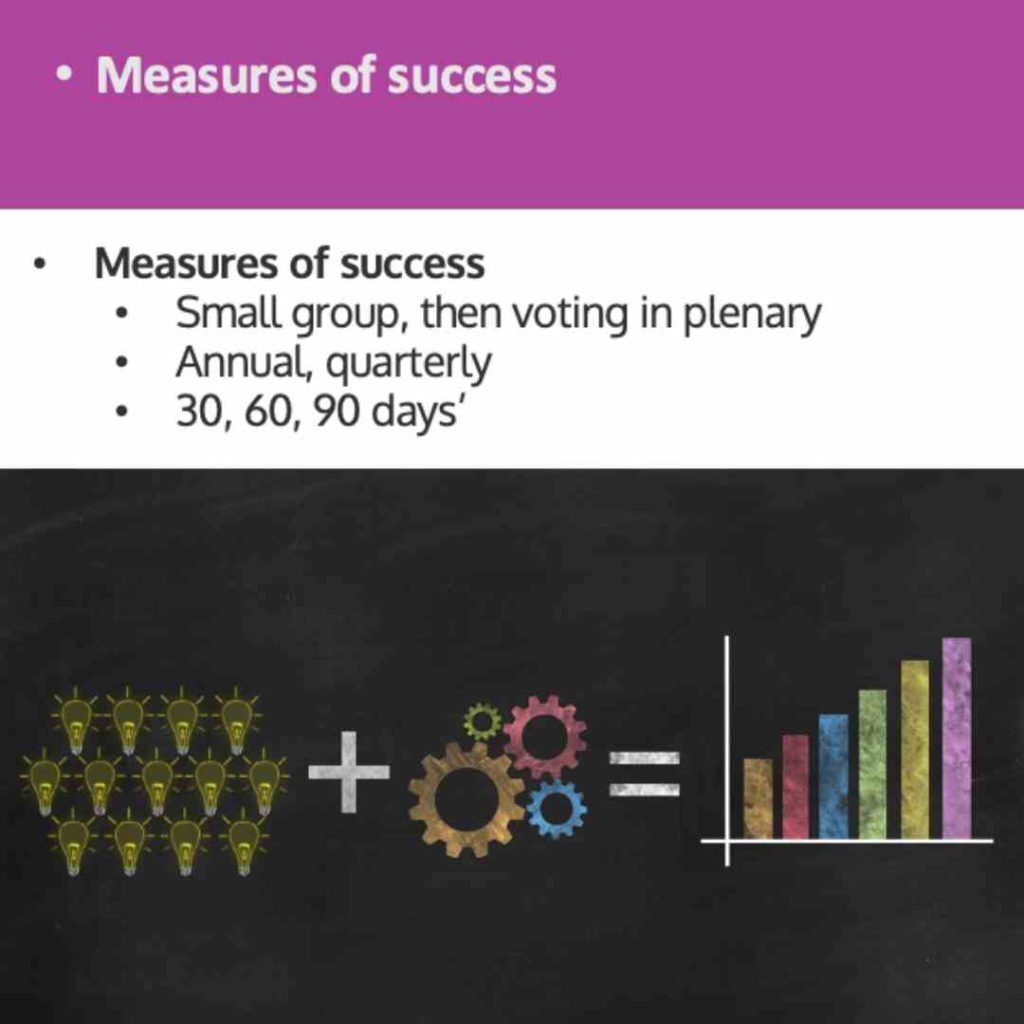 Goal setting workshop: Key Actions
Finally, it is important for your delegates to leave knowing what key actions they need to take to achieve the goals they have identified in your workshop.
Start the process by asking delegates to get all the potential actions down onto separate sticky notes, then putting similar themed sticky notes together, and working out the priorities from there in terms of which actions will make the greatest positive difference.
Goal setting workshop in summary
In summary, there's more to goal setting than we might first think. Goal setting is there to operationalize a team's bigger mission, vision and purpose. It's also not just about knowing what the goals are, but having a system built-in that will support the achievement of those goals. When we're designing and facilitating sessions with teams, we can really help to set them up for success by building these into the workshop process.
Next steps
Once you've completed your goal-setting workshop, be sure to plan in a follow-up goal achievement workshop soon after. Use my step-by-step goal achievement workshop agenda here.
I've got lots of free resources available on facilitation. Have a look at these free articles and YouTube videos that I've created for you.
If you'd like to know any more about goal setting workshops, please do reach out and get in touch.
My purpose is to help you innovate and help you get to where you want to with you, your team and your organization.
I hope you've found this article on goal setting workshop useful, thank you for taking the time to read it.